Every summer, the Keenan Research Summer Student programs runs weekly research seminars, giving undergraduate and medical students the chance to share more about their ongoing summer projects with their fellow peers and colleagues at St. Michael's Hospital. On Thursday, July 6th, two of the Options Lab's summer students, Emma Monti and James Lisondra delivered a joint 15-minute seminar on their chart review projects at the LKS Auditorium.
The seminar was followed by a 10-minute question & answer period where the audience touched on various aspects of their projects such as it's relevance to priority populations in the HIV epidemic and their implementation into clinical practice. When asked about how their projects may help inform their future careers as physicians, James and Emma highlighted the importance of listening to the unique needs of groups at high-risk for contracting HIV and other STBBIs.
Congratulations to Emma and James and thank you for sharing this important line of work to the research community at the Li Ka Shing Knowledge Institute!
Emma's project title: "Hepatitis B Prevention Interventions During HIV PEP Visits: A Retrospective Chart Review"
James' project title: "Exploring the frequency of monitoring renal function in patients on HIV pre-exposure prophylaxis regimens containing tenofovir disoproxil fumarate"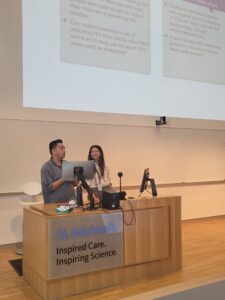 James Lisondra (Left) and Emma Monti (Right) delivering their seminar at the LKS Auditorium.