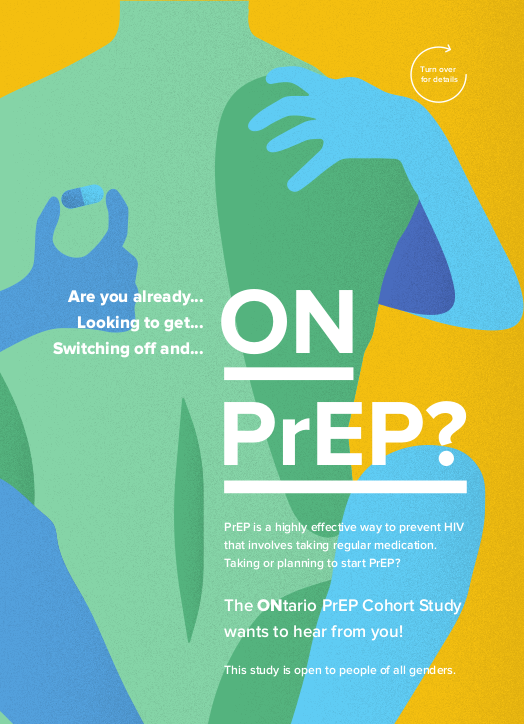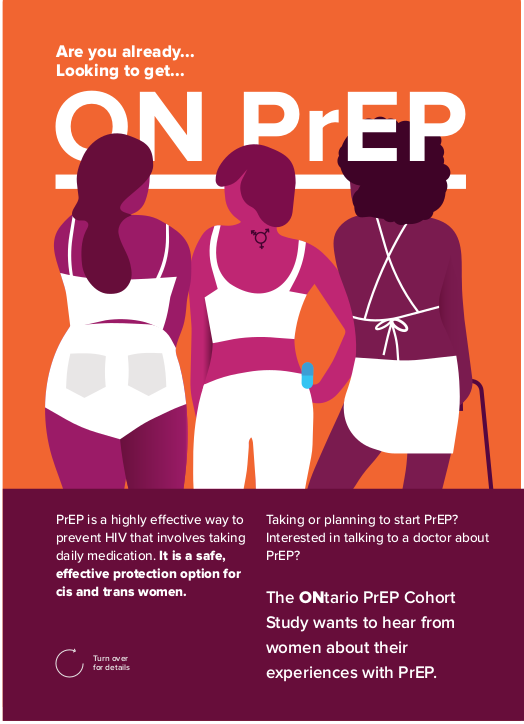 Exploring the experiences, health and wellness of people taking HIV pre-exposure prophylaxis (PrEP) in Ontario.
As a relatively new and highly effective option for HIV prevention, PrEP could greatly reduce new HIV infections in Ontario. While PrEP has been available on a limited scale for several years, formal approval of the drugs tenofovir disoproxil fumarate/emtricitabine (TDF/FTC) for use as PrEP by Health Canada in February 2016 has helped to increase community interest in PrEP and led more people to use it. As PrEP use becomes more common, there remain a number of questions about how PrEP will be used by communities most impacted by the HIV epidemic and what potential benefits and challenges will arise as PrEP use grows.
The Ontario PrEP Cohort study seeks to answer these questions by enrolling 1250 participants who are using PrEP across the province and collecting data on their health and behaviour while using PrEP, how they think and feel about using PrEP, and their experiences accessing healthcare. By following how people use PrEP in their daily lives we hope to answer important questions about the efficacy of PrEP in real-world settings and how it may impact things like overall sexual health, sexual behaviour, perceptions of HIV risk, and engagement in medical care. Gathering this information will allow for community based HIV educators and healthcare providers to provide better information and services related to PrEP in Ontario.
Participation is open to anyone 16 years of age or older starting or using PrEP in Ontario. Participation includes regular surveys every 6 months and permission to access your health information. Compensation is provided.
Interested in participating?
To get involved, contact any of the following healthcare providers or the ONPrEP study coordinator at 416-864-6060 ext 77395 or [email protected].
Toronto:
Dr. Darrell Tan, St. Michael's Hospital, 30 Bond St, 4th floor. Requires referral from another healthcare provider; referrals can be sent by fax to Positive Care Clinic 416-864-5310.
Sherbourne Health Centre, 333 Sherbourne Street, Toronto, Ontario M5A 2S5. New patients can make an appointment to see a doctor by calling 416-324-4180.
Maple Leaf Medical Clinic, 14 College Street. Call 416-920-1991 or email [email protected].
Dr. Gary Rubin, Church-Wellesley Health Centre, 491 Church St., 2nd floor. Call 416-463-6929.
Dr. John MacLeod, 790 Bay Street, Unit 940. Call 416-926-0101
St. Michael's Hospital Family Health Team. Call 416-864-3076 to enquire about enrolling as a patient. Must be in catchment area to be eligible. For more details, visit http://www.stmichaelshospital.com/programs/familypractice/finding-a-doctor.php.
Dr. Isaac Bogoch, Toronto General Hospital, 200 Princess St., 13th Floor. Requires referral from another healthcare provider; referrals can be sent by fax to 416-340-5077.
Windsor:
Dr. Jeff Cohen, Windsor Regional Hospital, 2085 Tecumseh Road East. Call HIV Care Program Reception at 519-254-6115.
London:
Dr. Michael Silverman, St Joseph's Hospital, 268 Grosvenor St. Call the Infectious Diseases Care Program at 519-646-6207.
Guelph:
ARCH Clinic, 89 Dawson Rd., Unit 113. Call clinic at 519-780-5298.
Hamilton:
Dr. Kevin Woodward, St. Joseph's Healthcare, 25 Charlton Avenue East, Unit 300. Call 905-522-1155 ext. 35053 or book online at www.hamiltonprepclinic.ca.
Ottawa:
Dr. Paul MacPherson, The Ottawa Hospital, 1053 Carling Ave, Ottawa. Requires referral from another healthcare provider; referrals can be sent by fax to 613-737-8009.
This study was made possible through grants from CIHR, the Ontario HIV Treatment Network, CANFAR, and REACH 2.0.